The Financial Industry is leaving the stone age?
Working in the financial industry can be boring! Working in a bank can really take its tole – but then something magical started happening! The Financial Industry which has seen little real change since its creation, started to evolve!
In this article I explore some of my absolute favourite service providers, what they're doing and why I think its amazing!
If you haven't been living under a rock these last couple of years, you will have heard of Monzo – the online only, app based BANK – yes I said it! App Based Bank! These guys have been totally disrupting the financial market with their unique and frankly fantastic approach to banking.
They've recently changed their app UI (user interface) to make it even more user friendly & add a tonne of features which had previously been missing.
Here's their landing page, its crisp, its clean & I tell you something, its the best designed app I've seen!
Powered by the community who use it, Monzo build the changes its customers want, rather than the changes they think their customers want.
They're learning all the time, expanding their product base, diversifying their offering but staying true to their original mission, to be different, to be the bank people want, something many other major high street banks could learn from.
In a previous article, I talked about the hazards of rebranding when you're big, Monzo suffered a little bit of a hiccup when it was still but a beta & quickly overcame it with a name change, you guessed it, influenced by the people using the product so what was Mondo, a small – record breaking crowd funded beta became, the fastest growing digital banking service in the UK. You can find out more about the Mondo – Monzo on Wikipedia.
This sparked several major banks to try and get on board & a number of other app based contenders, presumably all wanting a piece of this new market of banking for themselves.
I believe that banks across the world are probably looking on in envy as Monzo redefines what it means to be a bank & while doing so, puts a lot of big names who've "always done it that way" to shame & at risk!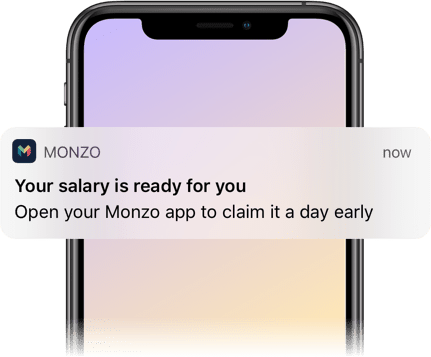 Whats even more impressive is they're releasing features faster than any other bank, the latest one is probably my favourite, allowing me to get paid a day early…
…just like that! At the click of a button at 4pm the day before I was meant too!
---
Meet Curve, all your cards, in one place! Now this really got me excited! Curve is a Mastercard which, by some witchcraft, connects all of your credit and debit cards into one, allowing you to choose which card to spend on directly trough their secure app.
Curve allows my wallet to shrink, instead of carrying 3 credit cards & 2 bank cards everywhere I go, I just take Curve (though if I am going for fuel or something which needs pre authorisation, I do still take a debit card with me).
Better yet, you can get a metal card! Yes, for me that is a perk in itself, I like the feel of a metal card – something I am hoping Monzo will jump on board with in time.
Better yet, when you use your card abroad, you don't pay transaction fees, or exchange fees oh and the exchange rate is often better than what is offered at a foreign exchange too!
Curve is crisp, clean and convenient – not a bank but a digital banking service, want to give it a go? Its FREE heres my referral code (we both get £5 if you start using it.) RMOWR
---
Open Banking – often considered a swearword for people who work in Digital departments of UK banks at the moment, it caused such a headache when it came in, but it was totally worth it!
Apps like Yolt, Emma & MoneyHub became not only more viable but also more useful as now they have a more direct, regulated and safe way to connect to your accounts using an industry standard. This protects both the industry & its customers from many of the dangers associated with user information and banking.
The apps above are designed to compliment your banks app, helping you budget and filling in the gaps that most banks have, with one exception, Monzo, in the monzo app you can manage everything these apps can, and more!
Theres a lot to take in here & so much more to explore but I believe the financial landscape is changing for the better – with challengers like Monzo questioning the stereotype of banks, Curve building a product designed for financial convenience and open banking introducing us to ways we can manage our money better – good things are to come, I think.
Know something I don't or have an idea for an article or video? Let me know, in the comments below!
J